Trucking yards, also known as freight terminals, are critical components of the logistics industry. They serve as the central hub for transferring goods from one truck to another, and from trucks to other modes of transportation. As such, trucking yards are high-value targets for criminals who seek to steal or damage the valuable cargo stored within. To mitigate these risks, many trucking yards employ physical security services to safeguard their facilities.
American Global Security wants to remind you of the importance of having guard services at trucking yards. We will also inform you of the various measures that can be taken to enhance security.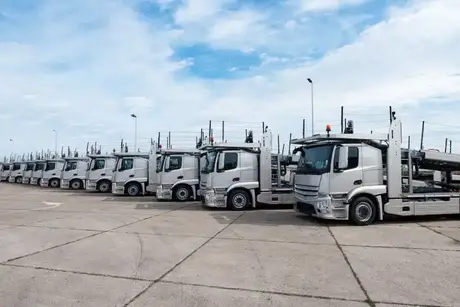 WHY ARE PHYSICAL SECURITY SERVICES ESSENTIAL AT TRUCKING YARDS
Trucking yards are vulnerable to a range of security threats, including theft, vandalism, and terrorism. Thieves can easily target parked trucks, especially those that have been left unattended for an extended period, and steal valuable cargo. Vandalism can cause significant damage to the facility and the trucks, resulting in expensive repairs and lost productivity. Moreover, trucking yards can be a target for terrorists who seek to disrupt the supply chain and cause chaos. While at first sounding improbable, the Department of Homeland Security designated these locations as some of the most vulnerable to small scale terrorist attacks and civil unrest incidents.
To prevent these threats, trucking yards should employ American Global Security services, to provide benefits, including:
Deterrence: The presence of visible security personnel is one way to promote deterrence. Another way which is becoming more and more popular is our mobile surveillance platforms, which have alarm system and speakers to address intruders and would be criminals.
Rapid Response: Physical security personnel can quickly respond to security breaches and prevent them from escalating. They can coordinate with site representatives and local police, as well as with our own Dispatch Team to call in for back up.
Enhanced safety: Security personnel can ensure that all safety protocols are followed at the site, and that those present follow the Code of Conduct there.
Protection of assets: Physical security measures can safeguard the valuable cargo and equipment stored within a trucking yard. As well as the trucks themselves, which drivers have invested time and money into making their own.
AGS IS READY TO PROTECT THE TRUCKING YARDS!
For guards we assign to trucking yards, we give them specialized training on how to deal with the perimeter security of a combined outdoor and indoor job site. They also receive special Terrorism Response training, per the more recent recommendations of Homeland security. Guards will always be given industry leading and site appropriate training, be that how to monitor and respond to CCTV banks, how to control access and monitor visitors/employees, and how to assist with lock up/open up procedures.
AGS recommends a combined physical presence of our unarmed guards and mobile surveillance platforms at any trucing yard concerned about the safety and sanctity of the people and property there. Contact our Business Development team today to learn more about our services! Don't wait until it's too late.