AGS Scope of Services now Include Remote Monitoring! We the team of American Global Security, Inc. have expanded our security services to include mobile surveillance platforms and the remote monitoring services associated with them.
LiveView Mobile Surveillance platforms feature industry leading surveillance technology. The devices combined proprietary software and hardware for a completely mobile, cloud-based security solution.
The LiveView mobile surveillance platforms do no require continuous power or internet, you can set it up in thirty (30) minutes or less, and you can deploy it anywhere in the world. Using these platforms is part of what makes AGS standout as a security firm.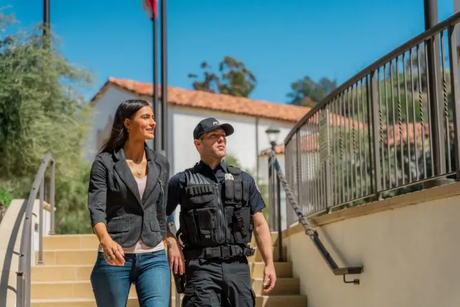 LIVEVIEW SECURITY SYSTEM!
Our approach to security is proactive, rather than reactive. Traditional security cameras are mostly for evidentiary purposes, rather than deterrence. LiveView cameras with their built in, remote activated alarms, and coordinated guard response can be the difference between preventing and dissuading crime, or merely recording as damage or theft is done.
Consider a LiveView Mobile Surveillance Platform for your business' security needs and call AGS today!
LIVEVIEW SOFTWARE
LiveView security system uses cloud computing. This means that AGS does not have to utilize a costly data supply center or infrastructure, write software, or hire an IT support staff.
The infrastructure as a service model tied to LiveView systems translates to less costs for our clients. It also translates to a continued focus on what AGS does best, pairing expert physical security services with innovative techniques and approaches.
Every LiveView Unit pair with Video management system which is organized, user friendly, and accessible 24/7 for our Dispatch center. This system can also auto-identify threats or issues and alert the user when something requires their attention.
LIVEVIEW HARDWARE
The ruggedized hardware is easy to spot, and we can purposefully draw more attention to our units by equipping them with strobe lights, floodlights, and two-way speakers. Each of these features connects to the VMS and our Dispatch center operates it.
LiveView mobile surveillance platforms exemplify the term "mobile." They require zero wires, and instead combine solar power, batteries, and generators when necessary. These units can be towed by any pick-up truck or vehicle with adequate torque. The head unit of the LiveView contains the speakers, lights.
There are multiple variations to fit any client's needs for security services. All options include: high resolution 70-120° cameras, optical, Infrared, and thermal settings, human and vehicle detection from 325-650ft (model dependent), and a streaming resolution to our Dispatch Center of 120×1080 at the bare minimum.
We can deploy these units anywhere! On a busy street corner or on a remote job site.
Please see the following graphics for mounting options and trailer specifications.